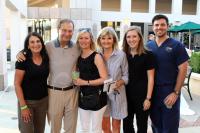 In September, we hosted our second annual Sip & Shop at Regalia Center. Sponsored by Boyle Investment Company, the event raised $2,677 and will provide a MOST scholarship to at least one Memphis-area student. Many thanks to all who joined us for this spirited evening.
Boyle has continued its partnership with us by including MOST in its Tiger Sports sponsorship. Boyle representatives recognized MOST staff and scholars at the start of the University of Memphis vs. Southern Methodist University football game on November 2 and will do the same during halftime at one of the 2019-2020 Memphis basketball games.
Thanks, Boyle, for helping further our mission!
Photo: MOST founder Bob Solmson (second from left) and Boyle senior vice president Kathy Pampuro (third from right) gathered with family and friends at the 2019 Sip & Shop at Regalia.