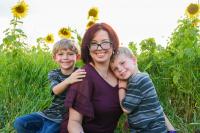 Ms. Edwards, mother of First Assembly Christian School (FACS) students Donlee and Leyem, attended FACS and now works at First Assembly Memphis church.
You've been part of the MOST program since 2016. How did you first hear about it?
Our school told us about the scholarship.
How important has it been for you to be able to send your boys to the school of your choice?
I attended FACS when I was a child and knew how amazing it was. There, my children are able to learn Christian values, and that is very important to me. I also love knowing that they are so close to me (when I'm at work).
How has MOST made a difference in your lives?
Financially, it has helped us a lot. The people at MOST have also made things so special. They offer little surprises
for their scholars (like occasional free tickets to community events). Donlee was selected for the MOST program when he was entering kindergarten, and it was amazing to know that Leyem could be added to the program as a qualifying younger sibling the next year.
Tell us about a teacher who has made a difference in your boys' education.
All of their teachers have made an impact on their education, but our elementary principal, Mrs. Schaade, has brought so much delight and wisdom to my two boys. We are so truly blessed to have her in our lives.
What do you and your boys like to do for fun?
We enjoy watching the Memphis Tigers football games and playing outside on their scooters and bikes.
What do you wish more people knew about MOST?
The thing I love most is how amazing the staff members are to every single scholar and that they reach out to the parents throughout the year. I love this program because it gives those who need help hope.