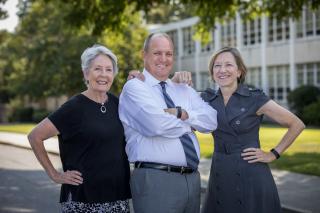 Twenty years, two decades, a score: That's how long MOST has been around. It all started when Bob Solmson read about a privately funded scholarship program in Indianapolis and went about emulating it in Memphis. In its first year, MOST granted $241,934 in scholarships to 122 students in the Memphis area. For the 2017-18 school year, it will offer $1,014,400 to 504 students. Not only has the program grown in size and scope, but so also has its demand.
"In the early days, we could take whoever walked in the door that met the income guidelines and had a kindergartner, but later we had to start doing a lottery," said Gayle Barnwell, who served as MOST executive director from 2001 to 2007.
To get the program going, the staff would hold open houses, where Memphis-area families could hear information about MOST and register for the scholarship. In the beginning, the entry points for new scholarships were kindergarten and grade 1. Now, because of increasing interest and the addition of two prekindergarten entry points, the program has a long waiting list each year. For 2017-18, MOST had 697 families submit pre-applications for 797 children. Due to limited funding, only 100 new scholarship recipients, including 26 siblings of current MOST Scholars, received scholarships.
Another growth factor has been the number of partner schools. Although some small schools have closed, MOST has added new partners over the years, most recently Harwood Center and Bowie Center Day School. Currently, MOST partners with 71 private schools—including Harding Academy, where MOST board member and former executive director Trent Williamson is now president.
In 1998, after doctoral studies and educational foundation work in Arkansas, Williamson returned to Memphis to work as MOST's first executive director. For a time, while program assistant Salle Norton was on maternity leave, Trent was a one-man show. Then, in 2000, Barnwell joined the team as program administrator. The following year, she took over as executive director when Williamson left for New Hope Christian Academy.
"Seeing the gratitude of parents was the most rewarding thing, and connecting them with donors was just icing on the cake," Williamson said.
During his tenure at MOST, Williamson oversaw the partnership with Children's Scholarship Fund of New York (CSF), which allowed the program to expand dramatically. Since 1999, a portion of the funds raised by MOST for students in kindergarten through grade 8 has been matched by CSF. By the end of the 2017-18 school year, CSF will have awarded $4,672,000 to MOST.
The staff member with the longest tenure, Norton has worked for MOST since its inception. In September 2018, she will celebrate her 20th work anniversary. Now the program administrator, she gathers and inputs all of the paperwork that MOST requires from parents and partner schools. Needless to say, Norton's good at making sure people stick to deadlines, and she does it with such kindness.
"Working with hundreds of families and dozens of school contacts, I somehow manage to stay organized," Norton said. "Plus, the three of us on staff really help each other out. It's like family."
Another longtime employee, Ginger Spickler worked at MOST as program administrator and communications coordinator for 14 years. She started at MOST in 2001, after making a transition out of a career in finance. She had been looking for ways to improve educational opportunities for children in Memphis, and the job at MOST helped her do just that.
"My favorite moment every year was the reception for MOST graduates," Spickler said. "Since we didn't get a lot of personal interaction with the students over the years, it was always cool to meet them as they were finishing up with us. Hearing the impact their educations had had on their lives brought me to tears each time."
With seed money from MOST and Solmson, Spickler spearheaded the launch of Memphis School Guide, an online resource that helps Shelby County parents navigate all of their school options—public and private. This was a project she started while on staff at MOST, and in 2015, she left to run the site on her own. Now, Spickler is helping to start Crosstown High, a charter school that will allow students to learn through real-world work experiences with tenants at Crosstown Concourse and others in the Memphis area. The school will open in August 2018.
MOST's current executive director, Mandy Rough, came into the position after working at St. Mary's Episcopal School for 10 years. While at St. Mary's, she was introduced to the MOST program and saw firsthand the difference MOST scholarships were making in the lives of students and families. Once at MOST, she oversaw the expansion of the program into prekindergarten.
Rough enjoys speaking with parents about the various educational options in the Memphis area and considers it an honor to help them find schools that will encourage their children to develop into their best selves. Although many parents call her about private education, she also provides families with information about all available options, including traditional public, charter, and even home schools.
"When a mother brings her application into our office and cries because she is so grateful for that last $2,000 she wasn't sure she could cover, we see firsthand the value in what we do," Rough said.
As MOST enters its next two decades, its greatest need is money. Scholarships require funding, and that funding must continue and even increase to keep up with rising tuition costs. Thankfully, a generous friend of MOST recently issued a challenge grant of $3.5 million. If MOST raises $3.5 million by December 31, 2018, this donor will match the funds dollar for dollar.
"This new fundraising goal is certainly a challenge but one that encourages MOST staff and friends to give new and increased gifts that will benefit hundreds of young people for years to come," said Courtney Shove, MOST's director of communications since 2015. "I don't have to look far for inspiration to give. Not only did I personally benefit from a right-fit education, but so did the MOST alums I've had the privilege of getting to know."
There's no way to know where our MOST graduates would be if they hadn't attended the schools their parents chose for them, but their success is undeniable. MOST began tracking ACT scores in the 2013-14 school year, and since then, the average is 21.5, which is well above the Shelby County Schools' 2017 average of 17.8. Beyond that, MOST alumni have shared other successes that are less measurable—such as developing confidence within a small-school setting and learning the importance of community service through a student-driven philanthropic group.
"I'm proud of the fact that we've given scholarships to over 3,100 kids and that MOST is a defined program, has tangible results, and has proven its success," Solmson said. "I'm proud of the kids, and I'm proud of their family members who have sacrificed to participate."


Photos
(Top) MOST executive directors, then and now: Gayle Barnwell, Trent Williamson, and Mandy Rough
(Second) Cumulative members of the MOST team: Courtney Shove, Ginger Spickler, Mandy Rough, Bob Solmson, Gayle Barnwell, Salle Norton, and Trent Williamson