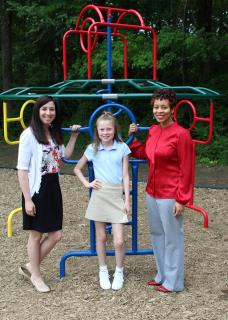 Established in 1972, Bodine School has a singular mission: to lead the Mid-South in teaching students with dyslexia to read and succeed. The only school of its kind in the area, Bodine enrolls 83 students in grades 1 through 6 and boasts a maximum class size of 10. In 20 years, MOST has granted $20,755 in scholarships to eight Bodine students.
"The dyslexic profile is one of typically above-average IQ, and the only roadblock that they have is that connection between letters and sounds," said Gretchen Klobucar, Bodine's director of development (pictured, far left). "Literacy and comprehension are the main challenges for them."
About 20 percent of the population displays dyslexic characteristics, and a child can start showing signs of dyslexia in preschool. What many people don't know is that dyslexia is a neurological disorder, not a developmental one, and there is no cure for it.
Because of their students' need for continual language-based remediation, Bodine teachers in each grade level devote two hours each morning to Orton-Gillingham instruction, a multisensory approach to teaching reading. For example, after the teacher makes the sound of a certain letter, the students will repeat the sound, draw the shape of the letter in the air, look at the letter on the board, and then write the letter in their notebooks. By using several senses, the students are able to retain the information in a more effective way.
"Our goal at Bodine is to give students the tools they need to advocate for themselves and what they need to be successful," Klobucar said. "Also, the basic Orton-Gillingham tool set allows them to improve their decoding skills."
In 2016, Tennessee passed the Say Dyslexia Bill, which requires school districts to screen K–2 students for dyslexia and the state department of education to provide teacher training on identifying and addressing dyslexia. Knowing that the law's implementation will be a challenge, Head of School John Murphy envisions Bodine taking the lead on teacher training in the Memphis area.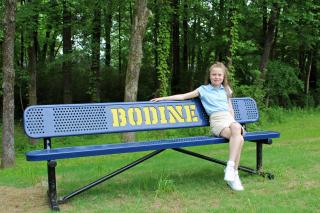 Because not all children with dyslexic characteristics can attend Bodine, the school seeks to provide community-wide help through its outreach arm — the Erika Center. On September 22, 2018, the center will team up with the Tennessee Branch of the International Dyslexia Association to offer a conference on assistive technology for Mid-South educators.
"We're taking the call from the State of Tennessee and helping put it into action," Murphy said. "That's what we feel good about. We want to help schools train teachers, counselors, and learning specialists and really help with early identification."
Bodine also recently began the process of becoming an official Academy of Orton-Gillingham Practitioners and Educators (AOGPE) instructional program. To date, there are only 15 AOGPE programs in the U.S., and Bodine intends to be the 16th. With its specialized credentials and commitment to research-based teaching methods, Bodine is well qualified to share its dyslexia resources beyond campus.
"It takes parents to advocate for their children and to become educated about how to identify what's happening with them," said Loie Watkins, Bodine's director of finance and operations and MOST representative (pictured, top, far right). "They're the first and frontline force for their children. And it takes educators to identify these students and not just pass them along. We owe it to our children to help them be successful in life."