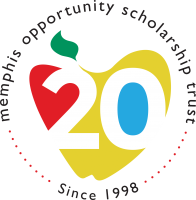 December 30, 1997: Memphis Opportunity Scholarship Trust, Inc. is founded by Jackie and Bob Solmson.

March 12, 1998: MOST holds its inaugural board meeting. Bob Solmson is selected as board chair and Trent Williamson as executive director.

August 1998: First MOST scholarships are awarded to 122 students.

February 1999: MOST begins partnership with Children's Scholarship Fund of New York.

July 1999: Jubilee Catholic Schools open and become partners with MOST.

October 16, 2000: First annual MOST Classic golf tournament is held.

August 2001: Gayle Barnwell becomes second executive director.

Spring 2004: MOST office moves to 850 Ridge Lake Blvd., Ste. 220 (from Ste. 330).

August 2004: Merit-based High School Scholars program is launched.

September 2007: Mandy Rough becomes third executive director.

August 2008: Scholarships for PK3 and PK4 grade levels are added.

March 2009: MOST surpasses $10 million in total scholarships awarded.

December 2014: MOST office moves to its current location at 1000 Ridgeway Loop Rd., Ste. 205.

Spring 2015: MOST helps launch Memphis School Guide.

September 2017: A friend of MOST issues a $3.5 million challenge grant.

December 31, 2018: With your help, MOST will complete the $3.5 million challenge!