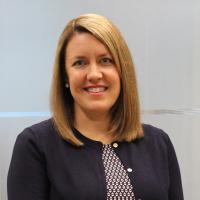 Having wrapped up our 20th school year in the scholarship "business," we at MOST are poised to begin a new era. Mandy Rough has retired after 11 years with us, and we celebrate her dedication and hard work on behalf of MOST families. Building on Mandy's foundation, Leanne McQuown is our fourth executive director, and she is excited to put her nonprofit experience to work at MOST. Above all, McQuown looks forward to getting to know our scholarship recipients and their families, our partner school representatives, and of course, the MOST supporters who make it all possible.
She comes to us after 14 years at the Orpheum Theatre Group, where she served the last 10 years as vice president of development. Previously, she worked in marketing at The Plaza Club and Memphis Cook Convention Center, after completing a business degree from Christian Brothers University. In addition to her vast leadership and fundraising skills, McQuown brings a calm, inviting demeanor to her new role. Also, she and her husband have gone through a school search for their child, so she understands the complexities and importance of the process.
"I enjoyed my past experience with program building and fundraising at the Orpheum, but I've always had a drive to do something that directly linked into families throughout our city, and this job does just that," McQuown said. "It connects to families, giving them the opportunity to choose the best schools for their children."
Her biggest drives are access and equity for Memphis-area families. At the Orpheum, she raised money for arts-education programs that benefited students across the Mid-South. At MOST, she will bolster our need-based scholarship program that enables hundreds of Shelby County parents to send their children to the schools of their choice each year. In addition, she will grow the MOST board into a larger, more diverse group.
MOST board member Alexis Faber cites McQuown's open mind and willingness to challenge the status quo as some of her greatest strengths, and Faber said she looks forward to working with her to create a long-term strategy for MOST.
"Passion for the mission of MOST is always so important when you take a role like this, to really believe in what MOST does," Faber said. "Through the work she has done at the Orpheum and in other places in her life, having that strong connection to the community and to the city is very motivating and energizing for her."
Board member Jane Slatery speaks of McQuown's genuine compassion and commitment to the MOST mission as well as her ease and grace in working with others. That warm nature will serve McQuown well as she gets to know MOST families and works with them to help provide additional educational opportunities for them.
"Making people feel welcome is one of the most important things I can do," McQuown said. "Right now, I'm learning the operations and getting to know the staff and board, but my primary focus is to get out and visit the schools, meet our liaisons there, and start connecting with our families."