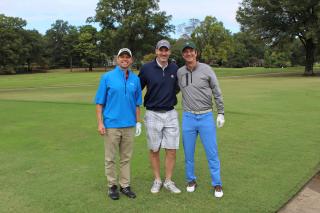 In early October, 80 golfers gathered at Memphis Country Club for the 20th annual MOST Classic. Thanks to our sponsors and participants, MOST raised $127,355 for need-based scholarships for children in prekindergarten through grade 12.
First Place (pictured, l to r)
John Owen
Jay Fik
Ben Jagoe
Second Place
Collie Krausnick
Bob E. Mallory
Neely Mallory III
Elkan Scheidt
Third Place
Chip Campbell
Chris Novarese
Pete Williams
Mark Younger
Closest to the Pin
David Thomas
Longest Drive
Will Thompson
Special thanks to our sponsors: Orgill, Inc.; Cummings Development; Fairwood Capital, LLC; Financial Federal Bank; Carol and Scott Hennessy; MAA; NFC Investments, LLC; Pinnacle Financial Partners; Premier Storage Investors; Jackie and Bob Solmson; Southeastern Asset Management; BuzzFREE Mosquito/Hollywood Feed; Tower Ventures Management, Inc.; Wyatt, Tarrant & Combs, LLP; Boyle Investment Company; Henderson, Hutcherson & McCullough, PLLC; NewSouth Capital Management; Diversified Trust; and Malco Theatres, Inc.
Thanks also to those who provided door prizes: Edwin Watts Golf, Gould's Salon Spa, Halloran Centre, Libro at Laurelwood, Novel, Orpheum Theatre, River Oaks Restaurant, and Lexus of Memphis, which sponsored the hole-in one prize.
Mark your calendars for the 21st annual MOST Classic: October 5, 2020.