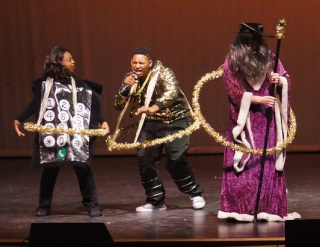 Listening to him recount his high school experiences, it's hard to imagine MOST Scholar Tylan B. was ever shy. However, his mother attests to his once-quiet nature. As a freshman, Tylan enrolled at St. Benedict at Auburndale (SBA) and went "all in," as they say. Now, he's a senior and already starting to leave a legacy there.
During his first year, Tylan was elected vice president of his class. Since then, he has been a cast or crew member of nine theater productions, a manager of three athletic teams, the marketing manager of the robotics team, and an enthusiastic show choir member.
"When I came to St. Benedict and they had so many different offerings there, I was really excited because it really opened my eyes to so many different things," he said.
This year, Tylan is part of the stage crew for the production of The Phantom Tollbooth, a senior retreat leader, and a peer-selected member of the Honor Council. He is also a STAR (Students Take a Role) Council representative for the Orpheum Theatre, which chooses only two students from each participating school. As of yet, there is no room in Tylan's schedule for senioritis.
Shemika B., his mother, said that when they were visiting high schools, she wanted a place that was not only diverse and offered solid academics but was also fun. Since sending him to SBA, she has been "beyond-words pleased."
"To go to a new school without knowing anyone and to get involved like that says a lot about the openness of (Tylan) and the school," Shemika said. "That shows how the school is open to new students coming in, making it easy for them to maneuver into different clubs. It's really cool."
Tylan has definitely taken advantage of the diverse offerings at SBA, but he speaks most highly of the community-mindedness there and the high level of encouragement from teachers and classmates. He said he's especially thankful for performing arts teacher Ryan Kathman and theology teacher Darlene Nevle and how they have built up his confidence and encouraged him to pursue his interests.
When the student playing Howie Newsome in Our Town had to give up his role, Tylan, who was working back stage, stepped in and learned the lines in two days. Tylan remembers Mr. Kathman telling him, "I really believe in you and think you can do it." That's the type of encouragement Tylan will carry with him beyond high school.
So far, West Side Story has been his favorite show. "We won a lot of stuff for it at the Orpheum's High School
Musical Theatre Awards," he said. "It was my stepping stone to really show me how to dance, sing, and act, and I made so many connections there with my friends now."
Before enrolling at SBA, Tylan attended Shady Oaks School, which caterers to students with unique learning challenges. He was only at Shady Oaks for a year, but he said it really helped him by breaking lessons down and bringing him to the next level before high school. At SBA, he has struggled a bit in certain classes, but he said his teachers are always there to offer extra help.
"I feel like I have been around people who care and know so much of my interests and are kindhearted enough to keep working with me in certain areas," Tylan said. "It has been such a good experience at St. Benedict."
In college, Tylan doesn't plan to pursue theater but said he'd love to be a vocalist for the highly selective Sound Fuzion ensemble at the University of Memphis, which just happens to come with a full scholarship. As for academics, he is keeping his options open — as only Tylan would do — but is considering structural engineering at the University of Memphis or nursing at Baptist College of Health Sciences.