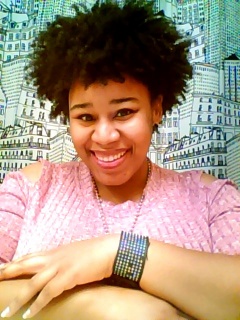 Most people cringe at the thought of taking a four-hour test, but what about administering a four-hour test? That's what MOST alumna Shunise Bledsoe does on a regular basis, and she loves it. A second-year doctoral student at the American School of Professional Psychology at Argosy University in Washington, D.C., Bledsoe is doing a forensics externship in which she administers court-ordered assessments for cases involving child custody, juvenile delinquency, spousal abuse, and the like.
Although many psychologists would like to avoid it, Bledsoe said she enjoys the testing side of the profession. She likes interacting with people from various backgrounds and age groups, gathering data, and creating reports that ultimately help the courts protect children.
"I've always known, I guess since the sixth grade, that I wanted to do something with psychology," she said. "I used to always say I wanted to be B.D. Wong's character from Law & Order."
A MOST Scholar for 11 years, Bledsoe graduated from Macon Road Baptist School in 2010 and attended Vanderbilt University on a full scholarship. In 2014, she graduated from Vanderbilt with a major in psychologist and a combined second major in Spanish and Portuguese. As a part of her scholarship, she studied in Brazil and is now fluent in Portuguese. She plans to continue practicing both foreign languages and use them in her career moving forward.
After completing her Psy.D., she would like to work as part of an integrative health-care team, one that focuses equally on patients' physical and psychological well-being. This holistic approach to health care has become even more important to Bledsoe since her mom was diagnosed with multiple sclerosis a few years ago. She feels strongly that patients dealing with difficult diagnoses need adequate psychological support as part of their regular medical care.
When asked how, at 24, she has achieved such success academically and professionally, Bledsoe quickly credits her mother, who encourages her to "thrive and not just survive." Coming from a family of strong women, Bledsoe said she has inherited an "I'm going to get this done whether you want me to or not" mentality toward reaching her goals.
"My mom felt I needed to go somewhere like Macon Road, where I could shine brighter and where the expectation was higher," Bledsoe said. "Had I gone to a school where there were like 700 students, it probably wouldn't have suited me very well, of I would have fallen through the cracks without anyone knowing."
Not surprising, Carmen Bledsoe swells with pride at the mention of Shunise and says the sacrifices she has made to give her daughter the best educational opportunities are worth it: "It was always my desire that Shunise have more success than I did in life, and a great education was the start. I believe each generation should always be better than the one before, and that's exactly what's happening."
Inspired by her daughter, Carmen finished her associate's degree shortly after Shunise graduated from high school. She also began pursuing a bachelor's degree before receiving her MS diagnosis. While striving to offer more for her daughter, Carmen began reaping personal benefits. "Shunise's experiences and success have definitely impressed and inspired me." Carmen said. "It's been all we've ever hoped for. I always knew she was bright, and I wanted the best education for her to fine-tune that which was already obvious."
At the end of the day, Shunise aims to reduce the stigma of psychological therapy. She's not a fan of brushing problems under the proverbial rug. Although self-admittedly tender-hearted, she definitely has the wherewithal to face challenges head on, and through her work, she is encouraging others to do the same.