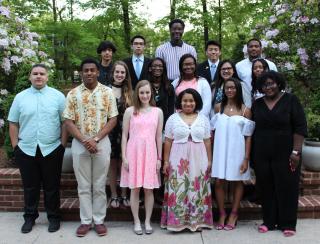 This spring, 17 MOST Scholars graduated from 13 private schools in the Memphis area: Brinkley Heights Urban Academy, Christian Brothers High School, First Assembly Christian School, Harding Academy, Immaculate Conception Cathedral School, Madonna Learning Center, Memphis Catholic High School, Memphis University School, Northpoint Christian School, St. Agnes Academy, St. George's Independent School, Tipton–Rosemark Academy, and Westminster Academy.
On May 1, 2018, we hosted a senior reception at the Dixon Gallery & Gardens, where we welcomed the students, their families, school representatives, and MOST board members and friends. During the event, longtime educator and consultant Dr. Mary McDonald gave the keynote address, and executive director Mandy Rough recognized each senior and his or her accomplishments. The parents and students also had a chance to share remarks.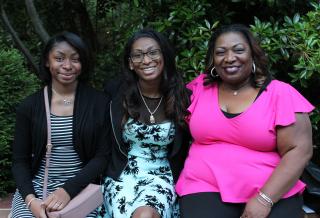 "It's very easy to give to family and friends because you know them," said Sheritta Delbridge, mother of MOST Scholar Shania Smith. "You all don't know us, and you all have given so graciously. We thank you, and God bless each and every one of you."
Thanks in part to MOST supporters, all 17 graduates have post-secondary-school plans, and 16 of them are headed to 10 colleges and universities across the Southeast. Eight received the Tennessee HOPE Scholarship, and three will use the Tennessee Promise Scholarship. Their intended fields of study include aircraft mechanics, biology, business administration, criminal justice, elementary education, pre-veterinary medicine, software engineering, and more. We wish them success in their future endeavors!
Class of 2018
Shelbi Avant, University of Tennessee, Knoxville
Demetria Bell, Madonna Learning Center Adult Program
Francisco Castillo, Southwest Tennessee Community College
Rekenia Cole, Talladega College
Precious Cornejo, Mississippi State University
Keilan Hulon, University of Tennessee, Knoxville
Holly Ingram, Baptist College of Health Sciences
Kaaliyah Jones, Southwest Tennessee Community College
Alberto Montero, The Tennessee College of Applied Technology, Memphis
Matthew Nguyen, Christian Brothers University
Erik Richardson, University of Tennessee, Knoxville
Cheyenne Smith, Northwest Mississippi Community College
Shania Smith, LeMoyne–Owen College
Shynia Smith, Baptist College of Health Sciences
Eduardo Vega, Southwest Tennessee Community College
Hannah Warren, University of Memphis
Carlin Webster, Southwest Tennessee Community College