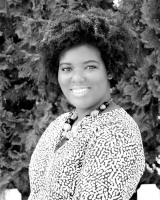 Toraneka Hampton, LPC
Toraneka now works as a mental health counselor at Impact Behavioral Health Partners and psychotherapist at Ambre Associates, LLC — both in the Chicago area.
What did you like most about being a student at Immaculate Conception?
I liked that it was a small environment that offered individualized attention and that I was able to develop a close relationship with my classmates.
How do you think IC prepared you for being an undergraduate at CBU and a grad student at Northwestern? I definitely gained great study and organizational skills! I still use these skills to this day.
What did you do after you graduated from CBU and before entering grad school?
At CBU, I majored in applied psychology with a concentration in organizational psychology and a double minor in Spanish and global studies (that's a mouthful!). After I graduated, I completed a year as a volunteer for Lasallian Volunteers, a subset of AmeriCorps. As a volunteer, I was relocated to Chicago, and I held a position as a graduate support coordinator at a middle school to assist students in transitioning into high school. Once the program ended, I decided to stay in Chicago and gained experience working in a domestic violence shelter before going to graduate school.
When did you know you wanted to become a mental health counselor?
I originally intended on completing an MBA and pursuing a career in business. It wasn't until my volunteer experience that I decided to become a mental health counselor. My volunteer position allowed me to develop a trusting relationship with the students where they could confide about their issues at home and at school. I also enjoyed being about to advocate on their behalf, and after having conversations with a school social worker I knew, I wanted to head in the direction of being a counselor. At that time I looked into school counseling, but my experience at the domestic violence shelter allowed me to work with various populations. From there, I decided to pursue mental health counseling.
You are now a Licensed Professional Counselor (LPC). How long did it take to become licensed?
After two years of graduate school, I took a state licensure exam and was licensed a couple months after graduation and able to start practicing right away. In Illinois, once you get your LPC, you must gain two years of supervised experience until you are eligible for to apply for the Licensed Clinical Professional Counselor (LCPC) status, which allows you to practice independently in the state. I have reached the two-year mark, and I am currently studying for the LCPC exam.
Tell me a little bit about your a day-to-day work.
We just rebranded our agency and changed the name from Housing Options for the Mentally Ill to Impact Behavioral Health Partners. I am very excited about this name change because it allows us to expand our services. I work in community mental health and meet with clients in their homes or at a coffee shop and provide an array of services, but mostly case management services. My goal is to provide the clients with skills to maintain living independently. I mostly have older adult clients that have a variety of disorders. I also work part-time at Ambre Associates, which is a private practice in Glenview, Illinois, where I work with children and adolescents.
What do you like best about being a counselor? What is the biggest challenge?
I love being able to advocate and support clients through their challenges and provide encouragement, especially since most of my clients do not have a support system. The challenge is experiencing burnout and learning how to practice self-care.
What is the biggest misconception people have about counselors or the counseling profession?
I think people believe that counselors are constantly trying to diagnose everyone they meet. That is definitely not the case.
How do you like living in Chicago? What do you miss about Memphis?
I love Chicago! It's exciting, and it has given me the opportunity to try new things and meet different people. I have even joined a Skeeball League. I definitely miss the food in Memphis and the Southern hospitality.