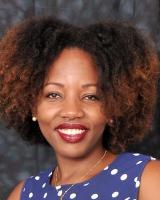 Olivia Uwamahoro Williams, Ph.D., is an assistant professor of Counselor Education and College Student Affairs at the University of West Georgia. A graduate of Memphis Catholic High School, she holds the following degrees: a B.A. in psychology, University of Tennessee, Knoxville, 2009; an M.S. in counseling, University of Memphis, 2012; and a Ph.D. in counselor education, University of Central Florida, 2015.
You came to the U.S. at age 9 as a refugee from Rwanda. What do you wish more people understood about that time in your life?
How challenging it is to come to a new country with such a different culture and to be expected to adjust almost immediately. We arrived in June and had to start school in August. Not to mention all the chaos and trauma we endured prior to our arrival. Things might be different now, but I feel as if very little priority was placed on making sure we were OK emotionally. The priority was placed on the checklist: obtaining all the necessary paperwork, going to the dentist, going to the eye doctor, getting a physical, registering for school, etc.
What's the most important lesson you learned from this difficult experience?
Family above everything. Education is an absolute necessity. Having a strongfaith in God.
How did Memphis Catholic prepare you for college and the working world?
Memphis Catholic offered a rigorous academic curriculum and diverse options for extracurricular activities. I took honors and AP courses. I was a cheerleader and a member of the volleyball, basketball, softball, and track-and-field teams. I was the junior class vice president, senior class president, and a member of Bridge Builders and the Diversity Club. I was inducted into honor societies. I played clarinet in the band and was first chair for a year. Memphis Catholic allowed me to become a well-rounded student.
How has MOST played a part in your educational journey?
MOST made it possible for me to attend Memphis Catholic, which afforded me so many opportunities. In addition, MOST brought Kristen and Trent Williamson (former MOST executive director) and their family into my world. They have been sponsors, mentors, friends, and basically family to me. They have played a major part in my educational journey, my career, and my personal life.
Tell us a little about your current job.
I am an assistant professor of Counselor Education and College Student Affairs in the Department of Communication Sciences & Professional Counseling at the University of West Georgia, where I teach master's and doctoral students. I am responsible for teaching competent future mental health professionals who will go on to work in our communities and schools and impact thousands of people.
What do you like most about your job?
The far-reaching impact of my work. I also love being able to engage in research and service. Being in this position has allowed me the opportunity to contribute to the mental health field in a multitude of ways.
What skills do you employ most in your job?
Empathy, creativity, and organization.
What advice would you give to today's high school students?
Step outside of your comfort zone and engage in diverse activities. Do not focus just on academics or sports or the arts, etc. Be open to new experiences. Find a mentor or two outside of your family. Do not wait until your senior year to start thinking about life after high school. Start brainstorming and exploring your options as early as possible. Work hard, but also remember to enjoy time with your family and friends.
What do you like to do in your spare time?
Besides spending time with my amazing husband and our adorable daughter, I love to travel, go to festivals, work out, host family and friends at our house, garden, and do craft projects around the house.