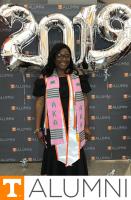 Meet Kathleen Spight. A graduate of Briarcrest Christian School and New Hope Christian Academy, she received her bachelor's degree in public administration from the University of Tennessee, Knoxville. Spight now works at Knoxville TVA Employees Credit Union and is studying for the LSAT.
Do you think you would have been able to attend Briarcrest without the MOST scholarship?
I would not have been able to attend Briarcrest without the scholarship. New Hope also helped a lot financially, but the MOST scholarship bridged the gap.
How did attending Briarcrest prepare you for college and the workforce?
Briarcrest is a college-preparatory school, and it did just that—prep me for college. Briarcrest taught me how to take notes, read analytically, and manage my time. I think if I had attended any other school, I would not have been as prepared as I was. Briarcrest also prepared me for life in general. Many of my friends of color at UTK felt out of place being at a predominately white institution. At Briarcrest, I was a minority, and that was OK. That experience allowed me to thrive at UTK and in my current job.
Are there particular teachers who inspired you?
While at Briarcrest, the teachers who affected me the most were the ones that were toughest on me and knew that I could do better. Their drive pushed me to be better. Those teachers were Mrs. Buckner, Mrs. Beasley, Ms. Hamner, Ms. Longworth, and Mrs. Scott. Ironically enough, these teachers taught the classes that I struggled in the most, but with their help, I excelled.
Tell me a little about your job at the Knoxville TVA Employees Credit Union.
I work in the Member Services Department, which manages all the customer phone calls. We also oversee many things that a branch does remotely because many of members are not local or cannot make it into a branch.
What skills are most important in your job?
The biggest skills I use in my job are patience and critical thinking. Patience because a lot of our members are older, and sometimes our members need a little more help understanding their problem because everyone is not familiar with how a bank works. Critical thinking because when members call with a problem, I have to think fast and accurately on how to help them.
What's next for you?
In 2020, I'll continue to work full time while studying for the LSAT and doing some volunteer work. I am interested in health, civil rights, and business law, so I am looking to volunteer in the healthcare field and at the local public defender's office.
What do you like to do in your spare time?
I love to cook and watch true crime shows in my spare time. I enjoy creating new recipes and doing new things with food!
Have you read any books or seen any movies or shows lately that you'd recommend?
For TV, I would highly recommend Law & Order: SVU and NCIS. Some books that I would recommend are The New Jim Crow by Michelle Alexander, Hidden Figures by Margot Lee Shetterly, and Becoming by Michelle Obama.