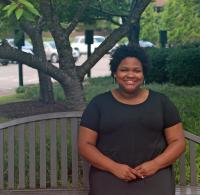 MOST alumna Erica Alexander graduated from St. George's Independent School in 2017 and is now a sophomore at Oglethorpe University, where she is a member of the OU Singers. During the summer of 2018, she interned at the MOST office and worked as a camp counselor at St. George's. Get to know more about Erica in this Q&A.
In what ways did SGIS prepare you for college?
SGIS prepared me for college by teaching me the importance of critical thinking, time management (although I didn't use it wisely sometimes), problem solving, and studying techniques.
What is your major, and why did you choose it?
I have decided to major in communications with a concentration in public relations because I want to understand the power of media and their technologies in everyday life.
This summer, you interned at MOST and worked at SGIS' summer camp. What did you enjoy about these jobs, and what are your professional takeaways?
At SGIS, I enjoyed watching the relationships develop among the campers and how they bonded with the counselors. I learned a lot about communication and patience. At MOST, I enjoyed interacting with MOST alums over email for online features because that's part of what I might do in a communications career after college. The internship at MOST helped me better understand my career goals and improve my relationship-building skills.
How has MOST helped you get to where you are today?
MOST gave me the opportunity to receive a quality education at St. George's, which has allowed me the opportunity to attend the school of my dreams, Oglethorpe University. If it were not for MOST, my parents would not have been able to afford either school.
What do you like to do outside of work and school?
I love to watch Netflix, sleep, and spend time with my friends.
Tell us about a book you've read recently.
I recently read Beloved by Toni Morrison for one of my classes at Oglethorpe.
Which musicians appear most on your playlists?
The artists who appear most on my playlists are Beyoncé and Justin Timberlake. After waiting five years, I finally got to see JT in concert in May 2018!
If you were to set one goal for your sophomore year in college, what would it be?
One goal I would set for myself is to stop procrastinating.
What advice would you give to incoming high school freshmen?
From the first day of freshman year, everything matters. Start planning for your future. Get all the help you need because there is nothing wrong with asking for help; use your time wisely; get involved in some type of community organization(s) that you are passionate about; and/or volunteer throughout high school.