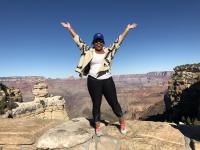 Harding Academy, Class of 2011
New Hope Christian Academy, Class of 2005

Deidra has a bachelor of political science and a master of business administration from the University of Tennessee at Chattanooga. She lives in Memphis and works as an analyst at Transplace, a logistics services company.
How did Harding prepare you for the University of Tennessee at Chattanooga?
Harding did an exceptional job of preparing me for college. A lot of the material taught in my general education classes was material that Harding had taught as well. The expectations and standards that my college professors requested were the same expectations and standards requested by my teachers at Harding and New Hope.
How did you make the switch from political science to business?
The summer before my senior year, I had the opportunity to study abroad in Rome, and while there, I took an international business class. This prompted me to continue my education and attain an MBA.
Give us an idea of your average work day. What skills do you use in your job?
As a logistics analyst, my days vary tremendously. My main task is to take big data and turn it into a "story." I pull huge amounts of data, clean them up, investigate them, and possibly suggest ways the company can cut costs. My job requires strong analytical skills, the ability to identify and resolve complex operational and financial issues, the ability to take massive data sets and use them for better-quality decisionmaking, and strong Excel skills.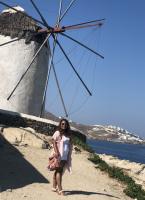 Tell us about your recent trip to Greece.
The people of Greece were welcoming and friendly, the food was amazing, and the sights were breathtaking. My friend Sherron Smith (MOST alum from Memphis Catholic High School's Class of 2009) and I love to travel. Greece was a country on both of our lists, so we did our research and went for it!
If you could have a do-over in life, what would you do differently?
I would focus more on schools and grades in hopes of going to a top-tier university. I would be more openminded, and if given the opportunity, I would jump at the chance to step out of my comfort zone.
If you won the lottery, what would you do?
I would pay off any student loans I have, purchase a house, and put the remaining money into savings and investment.
What advice would you give to a future college student?
If given the chance, study or travel abroad. This world is huge and filled with people of different cultures and backgrounds. You're doing yourself a disservice if you don't travel. Also, be open to the different groups and activities on campus and have an open mind.
What do you like to do in your free time?
I spend a lot of time with my family and friends. Memphis has so many fun places to visit, so my boyfriend and I spend a lot of time finding new places. Melanie Hawkins, another Harding (and MOST) alum, and I both have a passion for literature, so we just began a book club called Literary Ladies.