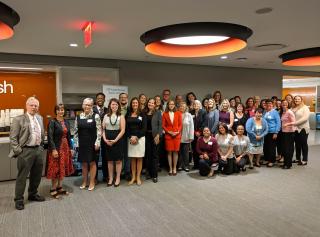 MOST is thankful for our partnership with Children's Scholarship Fund (CSF). Since 1999, CSF has matched
a portion of the funds raised by MOST for students in kindergarten through grade 8. On June 14, 2019, CSF Partner Summit attendees and presenters (pictured) from across the country gathered in New York City.
CSF's mission is to expand educational opportunity by providing scholarships to families in need so their children can attend the K-8 schools that best meet their needs, regardless of their ability to pay or where they live.
They fund and manage their scholarship programs and provide grant opportunities to 20+ programs, including MOST, nationwide. Founded in 1998, CSF has provided scholarships worth $789 million to more than 174,000 children.
In addition to financial support, CSF provides capacity building and management and operations support to its partners. Recently Leanne McQuown, MOST executive director, attended the CSF Partner Summit in New York: "It was a great opportunity to share ideas and best practices with representatives from organizations like MOST. We are thankful CSF supports us not only financially, but also through continuing education."
To learn more about CSF, visit scholarshipfund.org.