MOST partners with 52 private schools in Shelby County, including Christian Brothers High School (CBHS). There are religiously affiliated and secular schools, coed and single-sex environments, and specialized programs of many types. Each school offers a unique community with a mission and values all its own.
Christian Brothers High School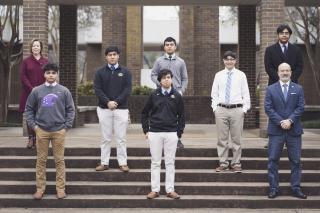 Grade levels offered: Grades 9–12
School type: All-boys
Religious affiliation: Catholic
Annual enrollment: 830 students
Average student–faculty ratio: 12 to 1
Average class size: 21
"Christian Brothers has been proud to partner with MOST since its inception to provide local families in financial need with a quality Catholic education for their sons and an unparalleled student experience, which aligns with our Lasallian core principles," said Lauren Volpe, CBHS admission director. "This partnership has made our school more accessible to all families in the Mid-South, regardless of their ability to pay, and we are grateful for the opportunity to better prepare their sons for college and form them into men of purpose."
For the 2020-21 school year, CBHS has received $26,120 in MOST scholarships for 10 students.
Photo: Lauren Volpe, CBHS admissions director, and Dr. Jamie Brummer, CBHS principal, with MOST Scholars Manuel, Alex, Alan, Oscar, Axel, and Jareth