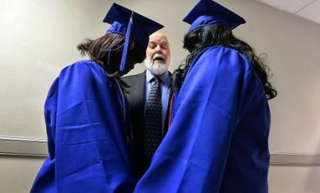 MOST partner school Brinkley Heights Urban Academy (BHUA) was founded in 2004 with the mission to intervene in the lives of at-risk children and youth living in the Brinkley Heights community by providing a high-quality, individualized Christian education that promotes academic, physical, social, emotional, and spiritual growth. On May 13, 2017, BHUA reached a milestone — its first commencement ceremony.
Consisting of two seniors, the graduating class of 2017 at BHUA carried with it the enthusiasm and heart of a much larger group during the ceremony at Second Baptist Church. Graduates Megan Evans and Chassatea Stone-Bailey, though not MOST Scholars, enjoyed the advantages of small class sizes, a progress-at-your-own-pace curriculum, and faculty mentors while at BHUA. As seen in this video from The Commercial Appeal, Head of School Tim Cox shared a celebratory dance with Chassatea after handing her her diploma. Pastor Cox and the graduates' families were indeed proud.
Here at MOST, we celebrate with BHUA and look forward to its future graduating classes! In 2018, we hope to honor MOST Scholar Francisco C. at his graduation from BHUA.
Photo: Jim Weber/The Commercial Appeal