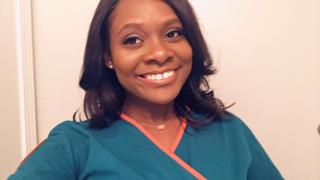 A 2014 Memphis Catholic High School graduate, Alicia Miller received a bachelor's degree in biology from Xavier University of Louisiana. She now attends the accelerated, second-degree BSN program at the University of Tennessee Health Science Center (UTHSC) and will graduate in August 2020.
"I've always been interested in the medical field," Alicia said. "Initially, I planned to attend medical school, but through my experience shadowing and volunteering in various fields, I realized I leaned more toward nursing because it allowed me more one-on-one time with patients."
While at Xavier, Alicia and her twin sister, Allison, spent a month in Haiti through the Haiti International Clinical Apprenticeship Program, which allowed them to experience firsthand some of the health care challenges in a developing country.
"We shadowed Haitian medical professionals and saw how things have changed since the 2010 earthquake and how there is still a lot of work to be done, especially in the health care field," Alicia said. "It was really an eye-opener in regard to how other countries and their people experience health care."
After this experience, it is not surprising that as soon as UTHSC offered the opportunity to volunteer at Christ Community Health Services, Alicia knew she wanted to participate. And volunteer she did, helping at one of Christ Community's drive-thru COVID-19 testing sites.
"Our responsibility as nurses is to rise up and not only educate the general population but also be a calming, reassuring presence during times of pandemics and other crises," Alicia said. "I think when you sign up to become a nurse, you are choosing to be a leader and to assist patients and the public in any manner possible."
After finishing her nursing degree at UTHSC, Alicia looks forward to gaining more hospital experience, specifically in maternal health and neonatal care, and getting her career started in Memphis. She said going away for college in New Orleans was good for her, but she is glad to be back in her hometown of Memphis and close to family.