Meet Yonadov Tsuna.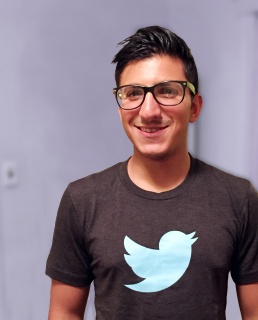 At 25, he has secured investors for a start-up business, opened a successful restaurant in New York City, and landed a job at Twitter. Who is this whiz kid? His name is Yonadav Tsuna, and he's a MOST alumnus.
After graduating as the valedictorian of his 16-member class at Margolin Hebrew Academy in 2008, Yonadav made his way to New York University. An aspiring filmmaker, he chose NYU for its stellar film school. Even today, after deciding on the "more practical" finance degree, he intends to become a filmmaker. Yonadav says it's in his 20-year plan.
While in college, he waited tables at Bouley, a Michelin star restaurant where he met his future business partner. Yonadav, who founded a film editing company in high school, certainly had the chops to start another business — this one with a culinary agenda. Several months after graduating from NYU, while working full-time in investment banking, he began raising capital for Empire Biscuit, a 24-hour eatery.
With a $150,000 starting investment, he and his partner opened the restaurant in 2013 to much fanfare, including write-ups in The New York Times and a mention on E! Entertainment's Chelsea Lately. In the beginning, Yonadav was working more than 100 hours a week juggling his banking career and the restaurant. Eventually, he decided something had to give, and he decided to leave banking.
Two years later, after parting ways with his partner over differing ideas about expansion, he has moved to the West Coast and is working as a sales operations analyst at Twitter. In short, he works on efficiencies and processes for the company. Yonadav says it's "super-high-level CEO, CFO type of stuff." For a young man who's lived only a quarter of a century, he's learned a lot. Here are a few of his lessons:
Envision more than one future.
In business, there are more than two outcomes; success and failure are not mutually exclusive. "You can't predict the future, but you should really try to think through not one future, not two futures — try to think through 10 permutations of what could happen. There's a lot of different paths that your business can take."
Know your business partner.
Like many business owners, Yonadav saw more of his partner and employees than his friends or girlfriend. "I could write a whole Harvard Business School essay on (what I learned from starting Empire Biscuit), and that's kind of my plan, but I would say, 'Know your partner and understand what you're getting into when you start a business. Know your investors, too, and use them as a way to get insight into the business.'"
Not all entrepreneurs have deep pockets.
"I think people fantasize about this flashy (entrepreneurial) lifestyle, but not everybody turns into Twitter or Chipotle. Not everybody turns into billionaires, and you have to be OK with not turning into that — or turning into that. You have to see success in a different light than I think Americans sometimes see success."
Have mentors.
Yonadav is thrilled to work just two floors away from role model Jack Dorsey, cofounder and CEO of Twitter. "I've always loved Twitter, and out of the four founders, I've always seen him to be the visionary. Jack Dorsey is just such an amazing human being; he even wants to be mayor of New York one day."
Party with strangers.
A people person, Yonadav doesn't mind getting to know strangers. "I love going to a party and knowing nobody because then you get to learn about everybody. You meet a bunch of people, and maybe (only) five percent are really amazing, but it doesn't matter because you still got to meet a bunch of human beings."