The facts parents should know about school choice and education savings accounts in Tennessee.
School voucher programs have existed since the early 1990s. Vouchers are not available in every state, but they are getting more attention now more than ever. Parents have been confronted with so many choices and decisions on how to prioritize their children's education, family, and work during the pandemic. With these challenges and decisions, schools have been put under a bigger microscope for parents more than ever before, causing them to realize educational choices they didn't know they had.
Before moving forward with the facts on school vouchers, it is important to understand public school funding. Public school funding is the money a school district receives, either through federal, state, or local dollars, to provide an education to students. This includes funds for academic programming, district and school operations, and other resources. The federal government often provides grant funding to local schools to support specific needs in certain communities based on economic needs, English learners, and priority areas.
Most recently, school districts received a large number of federal relief funds related to pandemic response and recovery. The majority of funding for public schools comes from the state level. At the state level, public school funds are appropriated through the state legislature's annual budget process. For the 2021-2022 school year, the Tennessee General Assembly allocated $5 billion dollars toward public school districts. The amount of these funds is determined by an educational funding formula that leverages revenues from taxes levied on property, goods, or other services.
States offer school voucher programs as a way to give parents alternative choices to public schools. There are a variety of programs for public vouchers and the specific type that Tennessee is in the process of implementing is an Educational Savings Account or ESA. The eligible families with students attending public schools in Memphis (Shelby County) or Nashville (Davidson County) can apply to receive taxpayer money to attend participating private schools so long as their household's annual income does not exceed twice the federal income eligibility for free school lunches, equating to approximately $8,192 per student.
Davidson County and Shelby County private schools must opt-in to accept students enrolled in the ESA Program.
Educational Savings Accounts

in Tennessee: Eligibility Guidelines for Students and their Families
A student is eligible for Tennessee ESA funding based on the income chart below. The student is eligible for the program until the student experiences one of the following terms.
Returns to a public school

Enrolls in a school that is not yet admitted to the program (Category IV or V) or a private school not approved under the rules of the State Board of Education (SBE)

Is no longer a resident of the local school district in which the student lived when the student began participating in the program

Is suspended or terminated from the ESA program

Graduates or withdraws from high school

Reaches 22 years of age

Fails to verify that household income meets the requirements

ESA account holder families must reapply to the program each year and verify their home address and income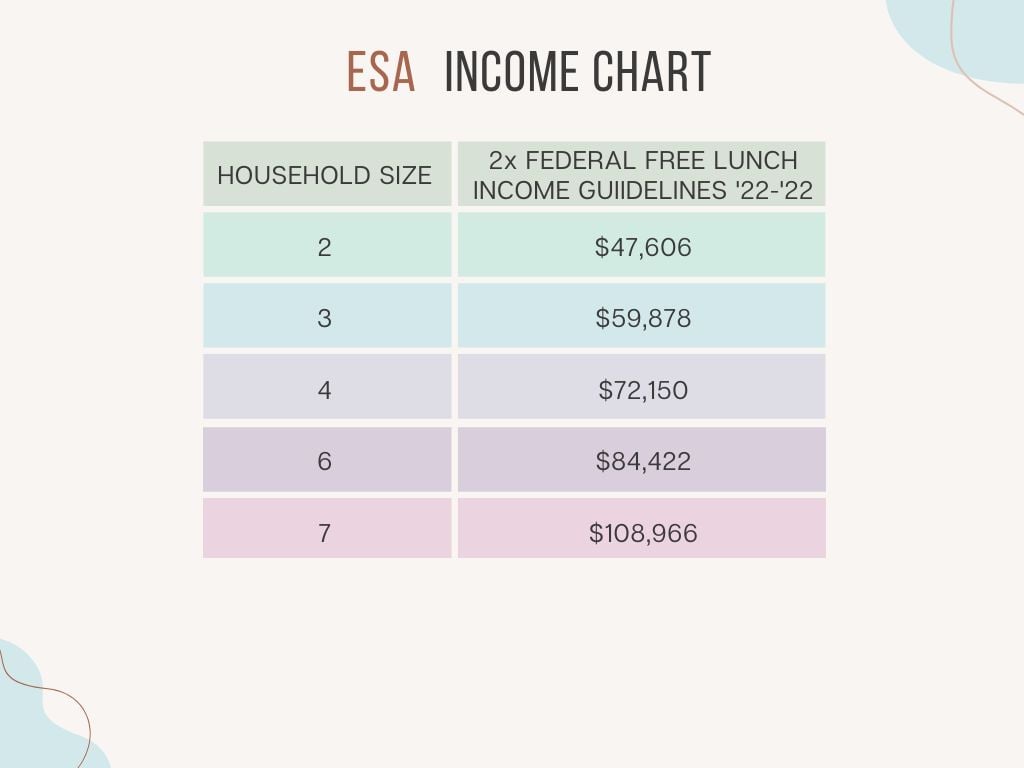 For the upcoming school year, there will be 5,000 ESAs available. If the Department of Education receives more eligible applications than the maximum number of students that may participate in the program for that school year, there will be an enrollment lottery. The enrollment lottery process will prioritize in the following order:
Eligible students who have a sibling participating in the program

Eligible students zoned to attend a Priority School, (

the lowest-performing 5% of schools in Tennessee, in terms of academic achievement),

as defined by the state's accountability system at the time of the enrollment lottery

Eligible students who can obtain direct certification status

All other eligible students
ESA Funds can be used for educational purposes including the following:
Tuition or fees at a participating school

required school uniforms at a participating school

Required textbooks at a participating school

Tuition and fees for approved summer education programs and specialized after-school education programs

Tutoring services provided by an individual who meets department requirements

Textbooks required by an eligible postsecondary institution

Transportation to and from a participating school or education provider by a taxi or bus service

Fees for early postsecondary opportunity courses, exams, or exams related to college admissions

Educational therapies or services for participating students provided by a department-approved therapist

Computer hardware, technological devices, or other department-approved technology fees (this is applicable only if the technology is used for educational needs, purchased at or below fair market value, and is purchased through a participating school, private school, or provider
Schools that are eligible to participate in the ESA Program include Private Schools in
Category I (department-approved),

Category II (schools approved by a private school accrediting agency that has been approved by the Tennessee State Board of Education,

or Category III (schools that are regionally accredited as identified by the SBE).
These schools apply to the state department of education to become a participating school and are responsible for telling the state how many seats they have available for the upcoming school year. As of now, 40 plus schools have availability for eligible students to enroll for the '23-24 school year.
The following are currently approved agencies for accrediting Category II and Category III Schools: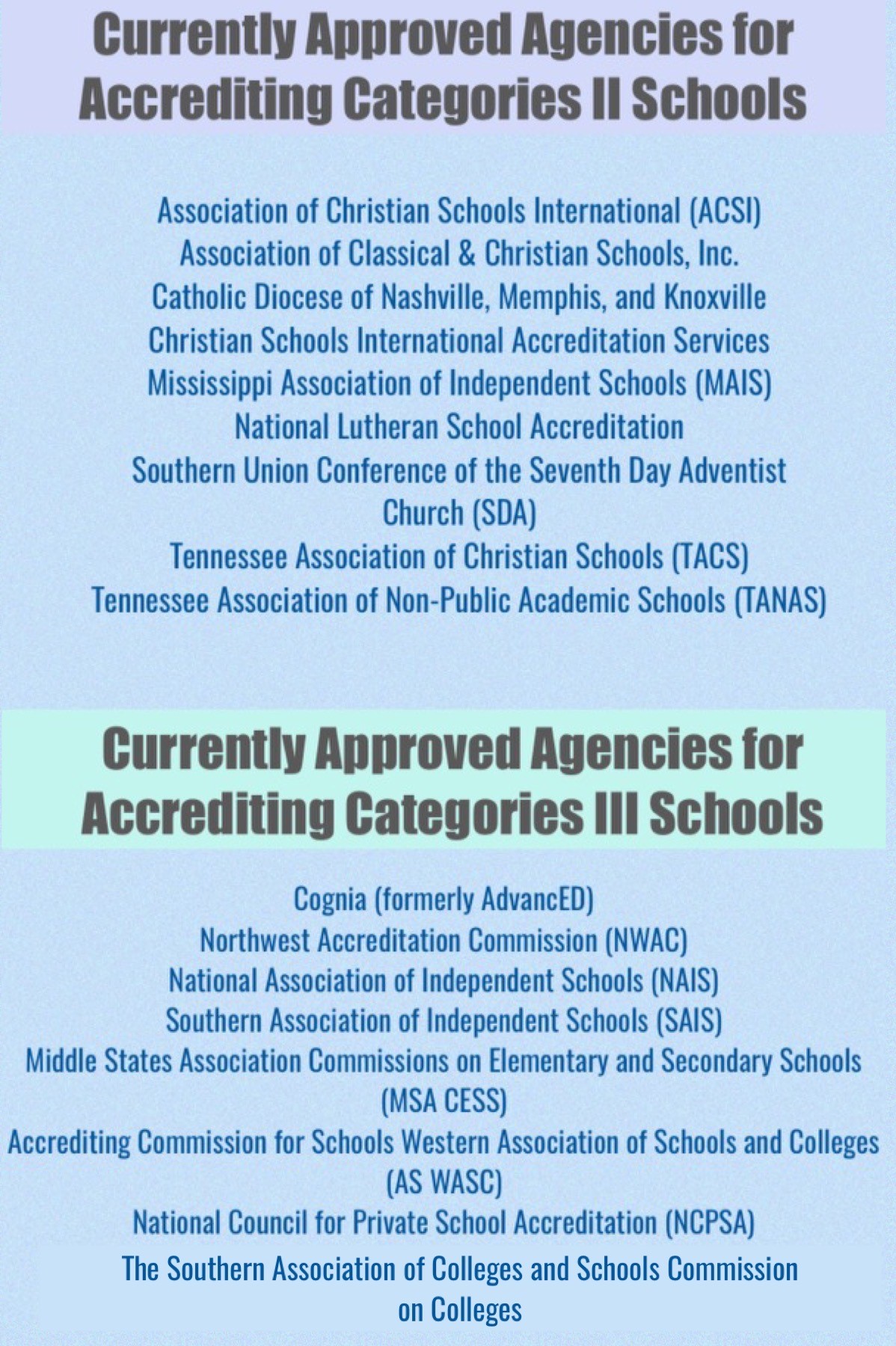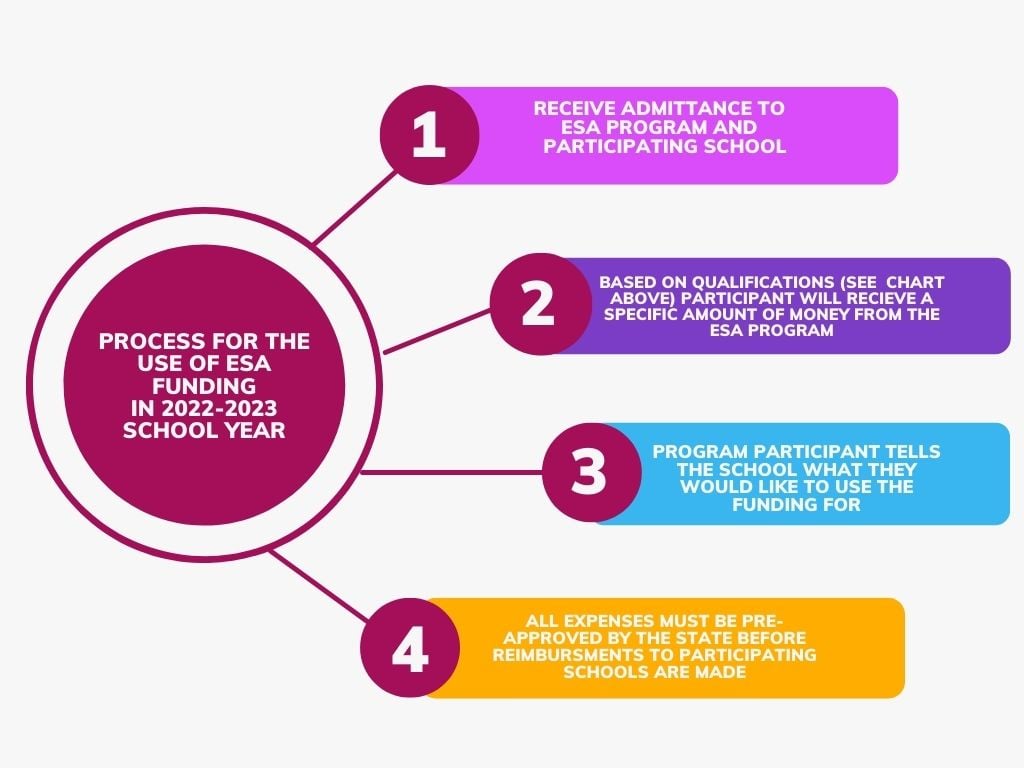 The Overall Process
For the 2023-2024 school year, parents or guardians of potential students must complete an Intent to Enroll and an application, requiring both proof of address and proof of household income. Upon review of the Intent to Enroll parents or guardians will receive additional application and program information. Participating non-public schools will be required to fund the student expenses to go towards tuition, fees, computers, uniform, or transportation by bus or train. The school will submit an invoice to the department for reimbursement.
The Tennessee Department of Education is working on an application and wallet platform for the participants to use. The department will monitor how ESA money is spent by requiring pre-approval for all expenses and requests for payments and if the department determines that an ESA account holder has misspent funds, the department may remove the account holder from eligibility for an ESA.
According to Chalkbeat Tennessee, nearly 2,200 families completed forms by last week's deadline to indicate interest in participating in Tennessee's private school voucher program in Memphis and Nashville. But it's uncertain how many of the 2,185 families and 84 schools will qualify as the state education department works to roll out the program with less than two weeks until the start of a new school year.
Tennessee History around the Education Savings Account
This is not the first year Tennessee has initiated discussions about voucher laws. Tennessee has been in a controversial split for years with those who want to use taxpayer money to give parents more education choices and others who say that this approach diverts money from already underfunded public schools.
In fact, the Tennessee Department of Education currently oversees a statewide private school voucher program, The Individualized Education Account (IEA) for students with disabilities. It was created by the General Assembly in 2015 and launched in 2017, with 36 families, there was a bit more time to launch the plans and respond to participating families. This IEA program now has 284 students. The maximum annual amount is equal to the amount representing the per pupil state and local funds generated and required through the state's funding formula for public education for the school district in which the student resides and is zoned to attend.
In regard to the ESA program, there have been several court rulings under Tennessee's 2019 educational savings account law. According to Chalkbeat Tennessee, the expedited timeline was set in motion in May when the Tennessee Supreme Court upheld the state's 2019 voucher law. Then, on July 13, a three-judge panel lifted a two-year-old order that blocked the program's original launch in 2020. That same day Governor Lee announced plans to resume work immediately to start the program with the upcoming school year.
Within a week, the Tennessee Department of Education relaunched its ESA website and invited participants to complete single-page forms online between July 19-25. This year's accelerated timeline means approved students would start classes in public schools on August 8th before transitioning later to private education.
Local governments in Nashville and Memphis recently filed a motion calling the launch "rushed and haphazard," and asked judges to block the start of this program for the second time while they challenge the constitutionality of this in court. The same three-judge panel mentioned earlier will hear the latest legal challenge on August 5th in Davidson County Chancery Court, three days before public schools reopen. They will decide whether the program will proceed or pause while lawyers challenge the law's constitutionality based on several remaining claims in the case. These two lawsuits challenging the program cite provisions in the state constitution that guarantee equal protection under the law. They argue that while the state is obligated to maintain an equal educational opportunity for its residents, vouchers would create unequal systems by targeting two counties and diverting funds from their public school systems to private.
During the next several weeks, the department of education and state are working through these expedited plans, setting up systems and processes for redirecting public education spending in Memphis and Nashville, the only two cities where the program is operating, to private schools and vendors. The process for interested parties to move forward in their application includes a longer, more detailed application that will take up to 21 business days for the department of education to process. Up to 5,000 students may use an ESA this first year, increasing by 2,500 each subsequent year.
More details on the application process here.
How the Educational Savings Accounts differ from M.O.S.T. Scholarships
You may be wondering how the ESA's differ from what Memphis Opportunity Scholarship Trust offers. The main difference is that M.O.S.T. scholarships are completely privately funded, and the only privately funded school-choice program in the Mid-South. M.O.S.T. provides scholarships through the generosity of M.O.S.T. founder Robert M. Solmson, a grant from the Children's Scholarship Fund, and our growing number of other friends: individuals, groups, foundations, and corporations. The support of our board members and our annual golf tournament proceeds allow us to underwrite administrative costs so other gifts are directed to scholarships for students. Since its inception in 1998, M.O.S.T. has provided over $24 million in scholarships to more than 3,500 students in the Memphis area. M.O.S.T. is similarly a lottery and has a waitlist of over 300 students. However, the application process for families receiving a M.O.S.T. scholarship have different eligibility requirements than the ESA Program and a different process for utilizing the funding.
Here is more information for eligibility and requirements to receive a M.O.S.T. scholarship.
The two programs are very unique, however, several M.O.S.T. scholars receiving a scholarship for the first time this year have expressed interest in the ESA Program and have successfully begun the application process with the state.