On Saturday, November 4, all 18 current M.O.S.T. McDonnell Scholars met at the University of Memphis Kemmons Wilson Culinary Institute for a cohort-building cooking class. As the students waited for Chef Eric Etter to kick off the session, they buzzed with excited chit chat as only teenagers can.
"I'm looking forward to this very much," said Briarcrest Christian School sophomore Silvanna Ordaz. "I know how to make a bowl of cereal and milkshakes. I think it would be fun to know how to cook and have it as a hobby."
The scholars spent the afternoon making an amazing two-course Italian meal, complete with hand-rolled tortellino (bigger cousin to tortellini) stuffed with ricotta they made from milk, lemon juice, and salt, and topped with fresh marinara made with basil grown in the school's hydroponic herb garden. For the second course, they hand-made fettuccine alfredo tossed with grilled chicken.
"This is so fun. So far making the dough for the pasta has been my favorite part so far. I'll probably do it at home sometime," said Karla Ochoa, a junior St. Benedict at Auburndale Catholic High School.
When asked if she had discovered a new career path, she told us she would stick with her current plan. "I'm going to be an aerospace engineer," she said.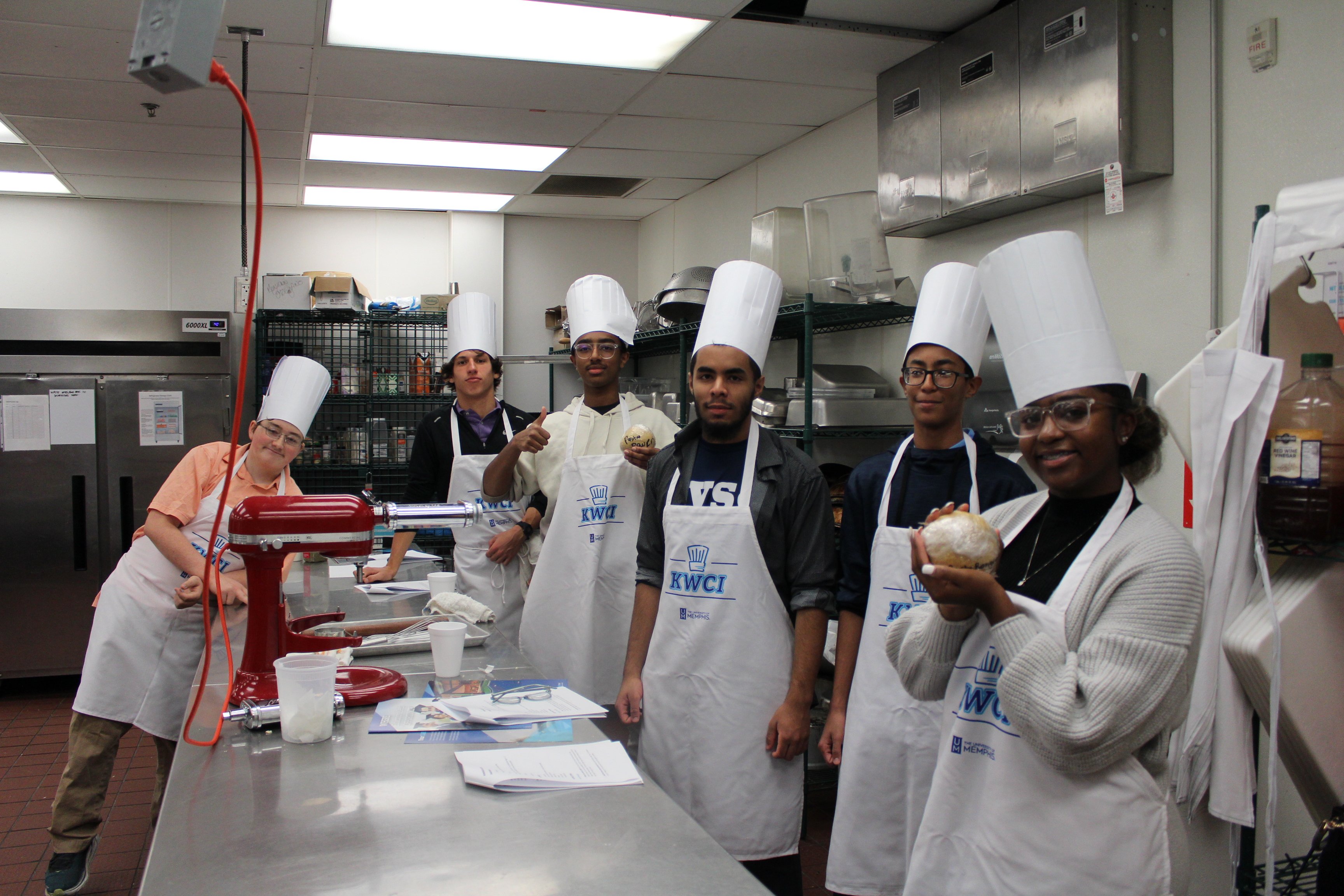 "I had fun making the dough, too," said St. Agnes Academy senior Rosie Rivera. "It reminds me of my mom making tortillas at home."
Launched in 2020 to honor long-time supporter Mike McDonnell, his namesake Scholars program stands apart from our standard M.O.S.T. Scholarship by adding a merit-based element to the existing needs-based model. Each year, rising 9th graders already in the M.O.S.T. program are invited to apply.
Based on scores on a standardized test and written essay, and their performance in an interview with M.O.S.T. staff and stakeholders, the top students are offered the additional scholarship. In its first three years, up to five applicants became McDonnell Scholars, but beginning in the 2024-25 school year the program is open to all rising 9th graders at our partner schools, with slots for ten new students.
"Because our McDonnell Scholars attend private schools all over the Mid-South, we organize these once-a-semester meet-ups as a chance for them to get to know each other," said M.O.S.T. Executive Director Abbey Cowens. "It's a thrill for me to watch them bond while engaging in something fun and outside their comfort zone."
This year's batch of amazing high schoolers truly are scattered across the private high schools of Memphis. The 18 9th to 12th graders in the kitchen were also representing Christian Brothers High School, Harding Academy of Memphis, Hutchison School, St. Benedict at Auburndale High School, and St. Mary's Episcopal School.
"This was all very fun, being with everybody and doing all these interesting things. Making the tortellino was really fun. But the best part was definitely eating the food," said Madi Sanders, a sophomore at St. George's Independent School. "I cook a lot with my grandma, like for big holidays. This year for Thanksgiving we'll probably make lasagna, dressing of course, turkey, deviled eggs, and a family recipe we call mushroom bread."
"This is really exciting for me because it's something new. I've never made pasta from scratch. It's also a little challenging, which I appreciate. I cook a bit at home but I'm not good at it. I really want to get good at cooking at home," said Pleasant View School senior Ibrahim Boudaoud. "I like it, but I'm not interested in doing it at the professional level. Right now, I'm leaning toward computer science or some sort of engineering."
Based on the colleges he's applied to, he'll be following this dream at his choice of Rhodes College, Rice University, Washington University, Vanderbilt, and University of Memphis. Like each and every M.O.S.T. Scholar, his intellect and work ethic are leading him toward a future filled with opportunity, thanks to the generosity of our growing community of donors.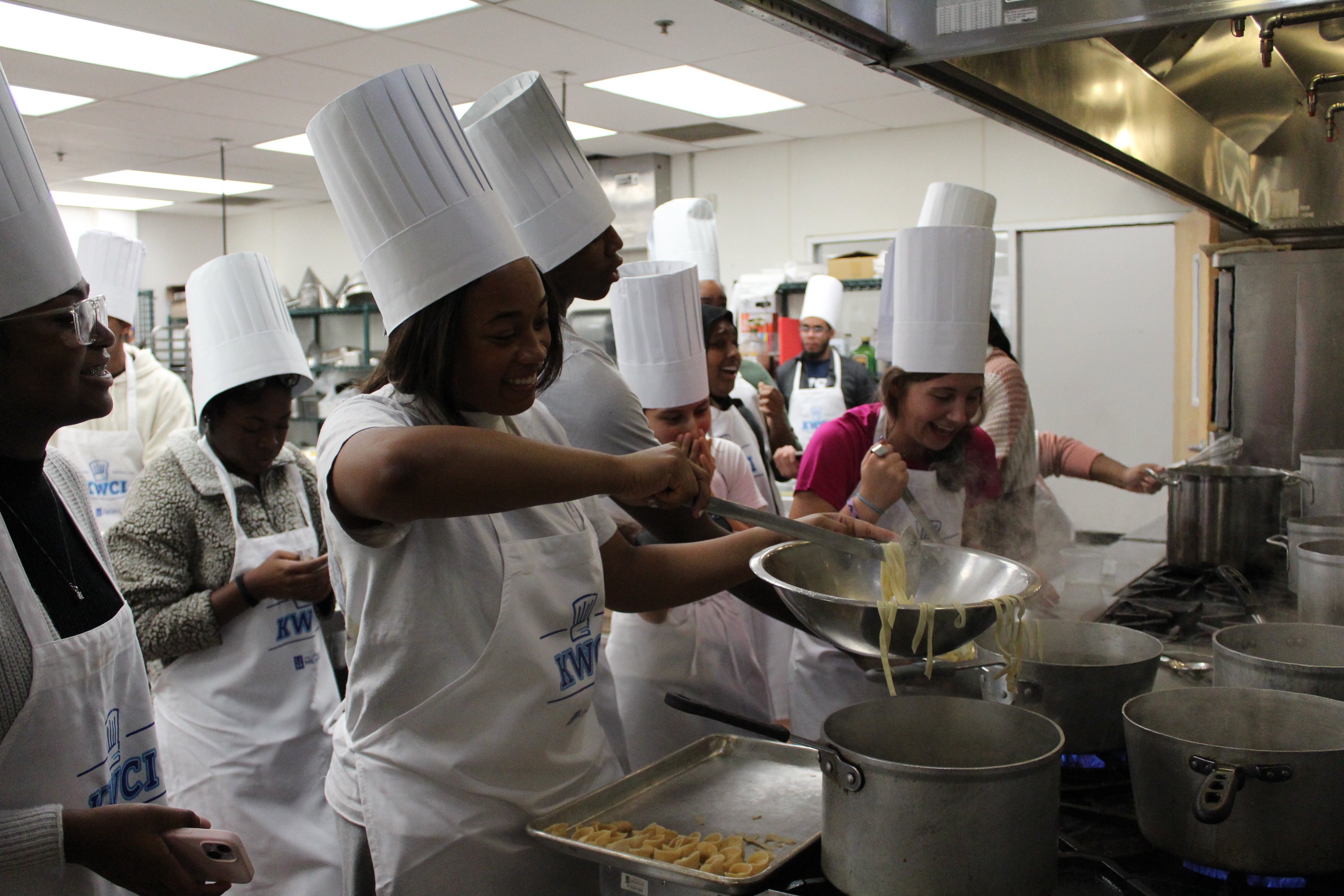 Homemade McDonnell Marinara
Yield: 3½ cups, enough for 1 pound of pasta
INGREDIENTS
One 28-ounce can whole San Marzano tomatoes, certified D.O.P. if possible
¼ cup extra-virgin olive oil
7 garlic cloves, peeled and slivered
Small dried whole chili, or pinch crushed red pepper flakes
1 teaspoon kosher salt
1 large fresh basil sprig, and/or ¼ teaspoon dried oregano, more to taste
Preparation
Pour tomatoes into a large bowl and crush with your hands. Pour 1 cup water into can and slosh it around to get tomato juices. Reserve.
In a large skillet or saucepan over medium heat, heat the oil. When it is hot, add garlic.
As soon as garlic is sizzling (do not let it brown), add the tomatoes, then the reserved tomato water. Add whole chili or red pepper flakes, oregano (if using) and salt. Stir.
Place basil sprig, including stem, on the surface (like a flower). Let it wilt, then submerge in sauce. Simmer sauce until thickened and oil on surface is a deep orange, about 15 minutes. (If using oregano, taste sauce after 10 minutes of simmering, adding more salt and oregano as needed.) Discard basil and chili (if using).
Serve over one pound prepared pasta. Garnish with grated Parmesan cheese, if desired.