Congrats to the Class of 2016!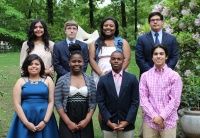 In spring 2016, 14 MOST Scholars graduated from six high schools in Shelby County: Christian Brothers High School, Evangelical Christian School, Immaculate Conception Cathedral School, Memphis Catholic High School, Tipton-Rosemark Academy, and Word of Faith Christian Academy. Thirteen will attend college in the fall, and one has enlisted in the U.S. Marine Corps. Two of the graduates scored a 30 or higher on the ACT, and seven have been offered sizable college scholarships.
In early May, we celebrated the group during a reception at the Dixon Gallery and Gardens. Every year, this special event allows us time to acknowledge the accomplishments of each graduate and give thanks to the donors who help make MOST scholarships possible. Furthermore, we recognize the parents who have sacrificed time and treasure to send their children to the schools of their choice. Indeed, we are proud of these young men and women — all accomplished in their own right. Their intended fields of study are as impressive as they are varied: aerospace, software development, medicine, graphic design, engineering, business management, filmmaking, and more.
We wish them the best in their future endeavors.
Enoch Banga, Christian Brothers University
Patrick Brown, Christian Brothers University
Chris Burns, University of Memphis
Krista Foster, University of Memphis
Randy Gudino, Christian Brothers University
Hugo Larrea, Middle Tennessee State University
Kellie Miller, Xavier University of Louisiana
Jannet Morataya, University of Memphis
Sammy Nyugen, Christian Brothers University
Jose Ramirez, Christian Brothers University
Shaneria Sanders, LeMoyne-Owen College
Vanesa Sauceda, Christian Brothers University
Billy Trueman, Christian Brothers University
Jimmie Van, U.S. Marine Corps