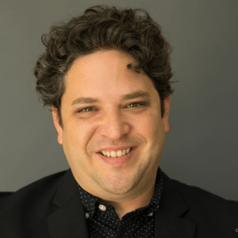 This winter, MOST welcomed Matt Timberlake as its new Communications Director. Matt comes from Jewish Community Partners, the managing organization of the Jewish Foundation of Memphis and Memphis Jewish Federation, where he was the marketing team lead since 2016, most recently holding the title of Director of Communications. His career has been dedicated to the non-profit space in Memphis since it began 20 years ago, with an emphasis on celebrating the city's bright spots while casting a spotlight on areas that need support.
Though a Memphis native, Matt spent a handful of early years in Baltimore, Maryland and his formative years in Manhattan, Kansas. A permanent Memphian since 1997, Matt's career as a marketing professional and freelance marketing consultant has taken him around the community while working with the University of Memphis, Soulsville Foundation/Stax Museum, MoSH Memphis (then known as the Pink Palace Family of Museums), New Memphis Institute, Urban Child Institute, Memphis Convention and Visitors Bureau, city and county government, and more. As a lay leader, Matt has served on the boards of Playback Memphis, MemphisTilth (then known as GrowMemphis), and Calvary Place Child Care.
"Matt and I worked together for several years in local philanthropy, where we learned that our professional styles are highly compatible," said MOST Executive Director Abbey Cowens. "His passion lies in non-profit work, and his creative approach to storytelling and visual messaging help potential donors not only understand the goals of a non-profit's work, but also its success in achieving them. I'm excited about where MOST will go as we raise our profile across the Mid-South and build our base of passionate donors."
Through his work, Matt understands how social issues like high rates of poverty and education inequity compromise our city's potential, and is thrilled to join the MOST team. In his role, he will work with MOST students, their families, board members and volunteers, corporate sponsors, and colleagues to share real and heartfelt stories, helping the community understand how MOST expands access to opportunity for hundreds of high-achieving students city-wide who may have otherwise been left out.
"Everyone deserves the chance to achieve their full potential and shape their own destiny," said Matt. "The hard truth is that in this inequal world, many people have profound barriers standing in their way and out of their control. MOST offers opportunities around some of these barriers, giving students access to schools that are better equipped to ignite their potential and set them on a path of high achievement."
"In the process, their success boomerangs back to help our city flourish," he said. "It's a win/win formula and I'm thrilled to be a part of it."
Matt and his wife Adrienne, an executive at archer>malmo, have two daughters, Ava and Evelyn, who are current 5th and 2nd graders in Grahamwood Elementary's Optional Program. Matt is a published songwriter and award-winning journalist, who enjoys writing and recording music, cooking, travel, and exploring the outdoors. An avid reader, film buff, and music snob, Matt enjoys critiquing popular culture at length to anyone unlucky enough hear about it.