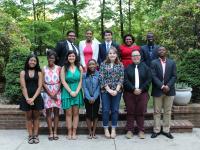 This spring, 16 MOST Scholars graduated from 10 private schools in the Memphis area: Christian Brothers High School, Evangelical Christian School, Harding Academy, Heritage Baptist Academy, Memphis Catholic High School, St. Agnes Academy, St. Benedict at Auburndale, St. George's Independent School, St. Mary's Episcopal School, and Westminster Academy.
On May 2, 2017, we hosted a senior reception at the Dixon Gallery & Gardens, where we welcomed the students, their families, school representatives, and MOST board members and friends. During the program, executive director Mandy Rough presented the seniors with personalized certificates from First Lady of Tennessee Crissy Haslam and state Rep. John DeBerry. The students and their parents also had the opportunity to speak.
"Thank you, MOST and Memphis Catholic, for all your help and support over the years," said senior Jayla Wilson, who plans to major in biomedical engineering and minor in Japanese at the University of Oklahoma. "I look forward to keep working hard."
Indeed, we are proud of these young men and women. All 16 are college-bound and will attend 11 colleges and universities across the country. Four were offered a combined $304,317 in merit scholarships from six schools, four received the Tennessee HOPE Scholarship, one was awarded a $5,000 music scholarship, and another received a scholarship to run track. Their intended fields of study include social work, business, nursing, accounting, dance, kinesiology, psychology, and more.


We wish them success in their future endeavors!
Erica Alexander
Oglethorpe University
Bobby Bailey
Southwest Tennessee Community College
Tylan Barr
University of Memphis
Susana Escobedo
University of Tennessee, Knoxville
Jewel Gaddy
University of Memphis
Victoria Guffin
University of Tennessee at Chattanooga
Anabeli Higareda
DePaul University
James Houston
University of Tennessee, Knoxville
Taijah Lamar
Middle Tennessee State University
Benjamin Ludoru Lomo
Christian Brothers University
Julia Palmer
University of Memphis
Marshall Shanks
Fisk University
Jonathan Thompson
University of Tennessee, Knoxville
Carmen Webster
Austin Peay State University
Jayla Wilson
University of Oklahoma
Anthony Young
Christian Brothers University