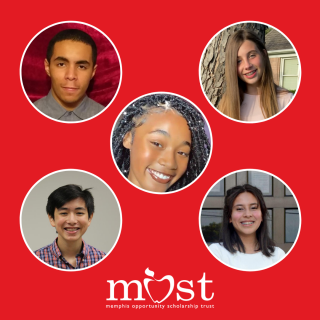 MOST recently announced its first class of Founder's Scholars. Established in 2020, the Founder's Scholarship is awarded annually to up to seven rising ninth-graders in the MOST program who exhibit outstanding academic promise, leadership, and character and have distinguished themselves among their peers by demonstrating attitudes and behaviors that mark them for success in secondary school, college, and life.
MOST is excited to announce its Founder's Scholars for 2020–2024: Ibrahim Boudaoud of Pleasant View School, Zoe Gill of St. Agnes Academy, Leia Harper of Harding Academy, Noah Lee of Northpoint Christian School, and Rosie Macario-Rivera of St. Agnes Academy.
The Founder's Scholarship is valued at 20% of the recipient's annual tuition, up to $2,500, and is awarded in addition to the general MOST high school scholarship, whose annual maximum is $2,700. Upon a satisfactory annual review, each Founder's Scholar may carry the funding through grade 12.
"Founder's Scholarships give additional encouragement and financial support to excellent high school students who have a demonstrated record of academic and personal success," said Ellis Haguewood, MOST board member who served on the selection committee. "Competition for the scholarship requires interviews, essays, and standardized testing to verify that those chosen to receive the scholarship are students with outstanding academic promise, strong moral character, and exceptional potential for leadership and community service."
MOST was founded in 1998 on the belief that all children deserve quality educational options—regardless of their ZIP codes or financial circumstances. To fulfill its mission, MOST offers need-based scholarships to qualified families in Shelby County who wish to send their children to private schools. Over the past 22 years, MOST has awarded more than $21 million in scholarships to nearly 3,500 students in prekindergarten through grade 12.