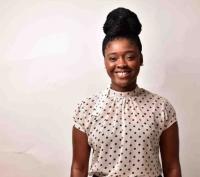 Through her work at City Leadership, MOST alum Joi Taylor helps equip and retain students who have graduated from its five partner schools: The Collegiate School of Memphis, Grizzlies Prep, New Hope Christian Academy, Soulsville Charter School, and St. George's Independent School–Memphis Campus. As the Choose 901 Alumni Program Coordinator, she works with high school and college students as they transition into the workforce. She provides them with resources for professional development and helps connect them to internships with companies in the Memphis area.
Joi holds a bachelor's degree in social work from the University of Memphis and loves putting her leadership skills to work in community development. A graduate of New Hope Christian Academy and MOST partner Evangelical Christian School, she says she gained a passion for service, community building, and networking from her independent school experiences. A self-proclaimed achiever, Joi relies on her people skills to connect with more than 1,000 Choose 901 alumni.
In April 2019, she was selected for the first cohort of the American Federation for Children Future Leaders Fellowship, which empowers young adults to expand educational choice through policy change. Click here to read more about the program.