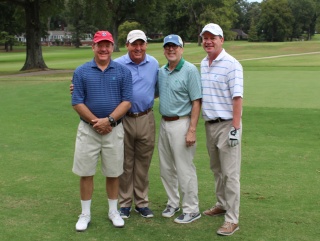 On September 26, which felt like the first real day of autumn, 88 golfers gathered at Memphis Country Club for the 17th annual MOST Classic. The group enjoyed lunch on the terrace before a 1:00 p.m. shotgun start. Thanks to our corporate sponsors and tournament participants, we are happy to report that the event raised $136,261 for children's scholarships in Memphis. This total includes $1,740 in mulligan sales, which alone nearly fund a MOST annual scholarship.
Congratulations to the following team for winning first place: Albert Carruthers, Dan Barton, Ron Ayotte, and Matt Prince (pictured). Not far behind were second-place winners Bob E. Mallory, Elkan Scheidt, Neely Mallory III, and Collie Krausnick and third-place winners Bill Fondren, Boyden Moore, Mike Keeney, and Mike McDonnell. George Cates won closest to the pin on No. 4 and Walter Bross the longest drive on No. 17.
Special thanks to tournament sponsors Orgill, Inc.; Cummings Development Corp.; Davidson Hotels & Resorts; Fairwood Capital, LLC; Financial Federal; Carol and Scott Hennessy; NFC Investments, LLC; Pinnacle Financial Partners; Jackie and Bob Solmson; Southeastern Asset Management; BuzzFREE Mosquito/Hollywood Feed; Diversified Trust; Dobbs Equity Partners, LLC; Tower Ventures; Wyatt, Tarrant & Combs, LLP; Boyle Investment Co.; Dudley B. Bridgforth, Jr.; Dan Kyle; and Royal Furniture Co.
Thanks also to those who provided door prizes: Edwin Watts Golf; Gould's Salon Spa; James Davis; Lafayette's Music Room; Local Gastropub; Malco Theatres, Inc.; Paradise Café; River Oaks Restaurant; Darrell Uselton; and Lexus of Memphis, which sponsored the hole-in-one prize.