Fourteen 8th Grade M.O.S.T. Scholars visited our offices in the first half of 2023 for two rounds of assessment, vying for their chance to add our merit-based M.O.S.T. McDonnell Scholarship to the funding already provided through our needs-based program.
In the first round, students tackled the 72-question Otis-Lennon School Ability Test (OLSAT), a multiple-choice K-12 assessment designed to measure reasoning skills, followed by a writing exercise in which the scholars were given 30 minutes to compose a thoughtful answer to one of two prompts. For round two, the students returned to the office for solo interviews with Executive Director Abbey Cowens and board members Ellis Haguewood and Keith McBride II.
"The OLSAT and essay are vital parts of the selection process and help us identify the best candidates for our coveted McDonnell Scholarships, but the interviews are my favorite," said Abbey. "The test shows us their academic mettle, and the essay lets us see their critical thinking and communication skills, but the interview is all about the intangibles. Their personality comes through, and you get a glimpse of their leadership qualities and their interpersonal skills. The interview gives them a chance to show us more than what's on paper."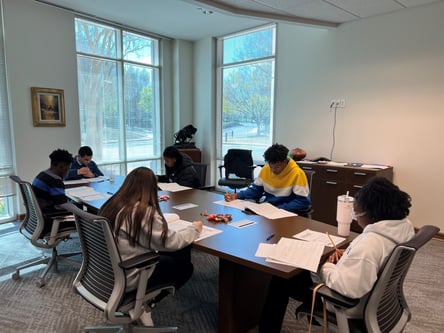 Originally launched in 2020 as the Founder's Scholarship, M.O.S.T.'s McDonnell Scholarship was later renamed in memory of supporter and lay leader Mike McDonnell, a businessman, philanthropist, and lifelong Memphian. The Scholarship is designed to empower top achieving M.O.S.T. Scholars as they begin high school and is granted to rising 9th graders who exhibit outstanding academic promise, leadership, and character, and who have distinguished themselves as students likely to find success in secondary school, college, and beyond. Recommendations from the applicants' middle school teachers are also considered. Once a McDonnell Scholarship has been awarded, recipients must meet annual requirements to maintain the scholarship throughout high school.
"Every student already in the M.O.S.T. program and going into 9th grade is eligible to apply," said Ellis. "Through the test/essay/interview process, we find what we think are the creme de la creme of our students. By offering scholarships to these young people, we're making sure they learn and flourish. We can help them become good citizens and leaders here in this community, which we badly need."
This year's rising 9th grade McDonnell Scholars are Yusuf Boudaoud (Pleasant View School), Ka'Nia Hardaway (Christ the King Lutheran School to Harding Academy), Londyn Harper (Harding Academy), Layla Lee (Hutchison School), and Aaliyah Sharif (St. Mary's Episcopal School).
The McDonnell Scholarship is awarded in addition to the general, income-dependent M.O.S.T. High School Scholarship, and is valued at up to $2,500.